By Elsa Lycias Joel
Auto Raji akka as she is fondly addressed by Chennaites is a hero among women and school going kids for the trust and courage she had displayed for 21 years. Popular among school kids during school hours for the free rides she offers to them, they have begun to adore her for many more things. Kids going and coming back from tuitions in and around Perambur are always anticipating a free jolly ride in an auto that has biscuit packets and water bottles. Being a people's person this auto woman is super comfortable with anybody on board. During long rides, she gets to know the commuter fairly well and goes to the extent of offering many kinds of help if need be. For example, she has gone the extra mile to empower women by teaching them to drive an auto without charging them for the energy, time or fuel. Over the years, Raji akka has developed a flair, to deal with different people and difficult situations. She has in fact revamped the whole idea of customer service. Her vehicle has first aid boxes, medicines, sanitary napkins, few newspapers and magazines too.
Her journey from the granary of Kerala to the city of dreams is what she calls destiny. Born and brought up in Palakkad, she married Ashok, an auto driver while she was still a student and they moved to Coimbatore, where Raji worked as an accountant in a travel agency. Soon after the 1998 Coimbatore bomb blast that took nearly 60 lives, Ashok and Raji moved to Chennai. Constantly encouraged by her husband and a handful of friends, Raji decided to take up auto driving. Everyday was a mix of hard work and celebration. Becoming known in her vicinity needed no extra effort because Raji never turned down anyone who sought help. 30 trips per day earns her 30,000 to 40,000 per month. Chennai women vouch for Raji's 24*7 availability. A tiring 8-9 hour shift doesn't deter this superwoman from answering a call at 12 midnight or drive to somebody in need, be it young kids, senior citizens, pregnant women, women who may not have the cab fare to pay, women reluctant to take a cab after a night shift so on and so forth. That one commuter Raji couldn't take off her mind is a woman cemetery worker who called her during the wee hours of the night for a pick up. Given her grit, Raji drove to the pick-up destination all alone and she never had to regret following her intuition that night because a chat with that woman gave Raji that extra ounce of impetus to reach where she is today.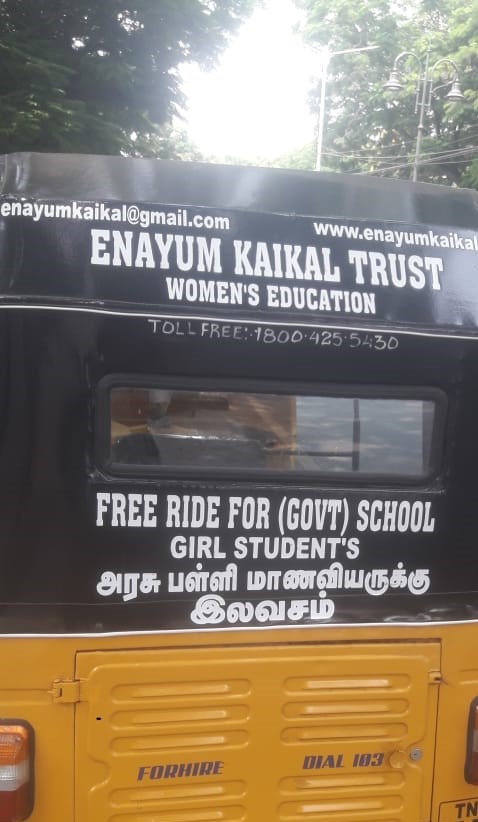 In 2019, Raji started a WhatsApp group 'Enayum Kaikal' managed by six admins to bring together 240 women auto rickshaw drivers of Chennai. The larger objective of Enayum Kaikal is to lend a helping hand during a crisis and raise one another up. If at all an auto breaks down, the nearest available friend rushes to help, when a member is in dire need of financial assistance the rest of them pool resources to lend money and encourage someone who doesn't drive regularly due to familial constraints. The Whatsapp group bloomed into a trust that supports 7 underprivileged children, a couple of who are physically challenged too.
Motivational talks in over 13 colleges in Chennai has made Raji a role model among teens who break societal norms to venture into male-dominated arenas. Testimonies of young girls help Raji rediscover her true compassionate self. Like every other working day of her's, Raji continued being the good samaritan to informal workers and destitute people soon after the government ordered the lockdown without a thought of those who would have no work if they stayed home and through her trust Raji managed to mobilize funds and resources to supply groceries to families in need. Good times or trying times, this woman is relied upon by many for what she has made of her over the years. Clad in heavy-duty khaki shirts, with well-oiled tight plaits, a smile and kind words on her lips and the highest rating, Raji is all set to urge more women, young or old to take up driving as a profession.