Avani Bansal
Watch the Interview here
I had only seen the Madhubani style paintings in Dilli Haat Market in Delhi. I was blown away with the intricate design, bold use of colours and the selection of the themes that felt almost surreal. So, when I got a chance to visit Madhubani, a small city, 26 kms away from Darbhanga in eastern Bihar, I was delighted beyond words. Madhubani is the origin place of Madhubani paintings, also known as Mithila paintings.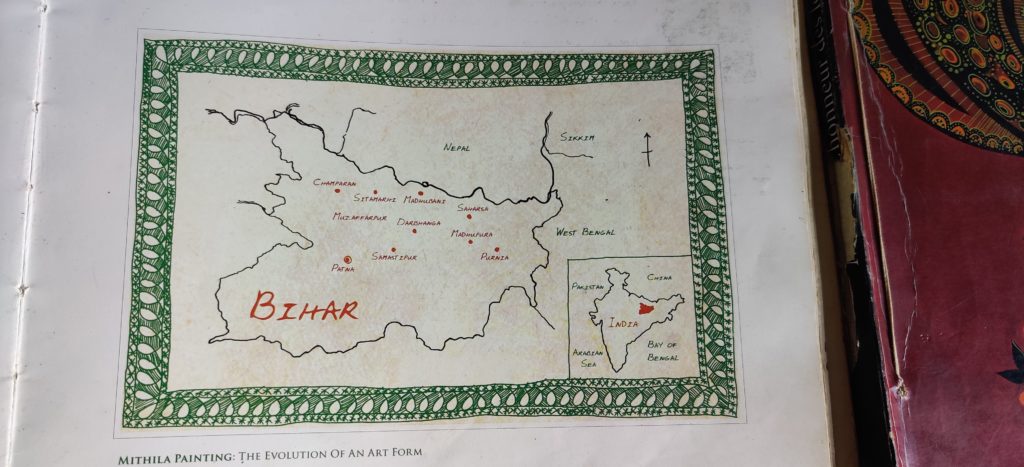 As per a legend pertaining to Hindu mythology, this art form first started when Lord Janak asked the villagers of Madhubani to paint their houses, and celebrate the wedding of Lord Rama and Sita. Interestingly, several Madhubani artists till today depict the birth of Sita, the wedding of Lord Rama and Sita and several others Hindu gods and goddesses in their paintings. Historically, Madhubani was part of the Mithila kingdom, which was a prominent political and cultural center. Also known as Videha kingdom, the rulers of this place were called 'Janakas'. Vedic literature including Brahmanas and Brihadaranyaka Upanishad mention Lord Janaka as a great philosopher king of Videha. As per Valmiki's Ramayana, Sita, the wife of Lord Rama is said to have been discovered in a furrow in a plough field, in the Mithila region, and therefore is considered to be a daughter of Mother Earth (Bhoomi). She was discovered and adopted by Lord Janaka, and that is how Madhubani gets its historical legend and connection to Janaka and Sita.
So I set out to meet the current day Madhubani painting artists and just by asking around the town, got to meet Dulari Devi, who is a Padmashree nominated Madhubani artist. We got her number and called, and she very kindly sent someone to guide us to her place. As soon as we entered her street, we saw the home of a Padmashree awarded Mahasundari Devi, who Dulari Devi later informed us was an inspiration for all the Mithila artists in the town and her legacy is now carried forward by her family members.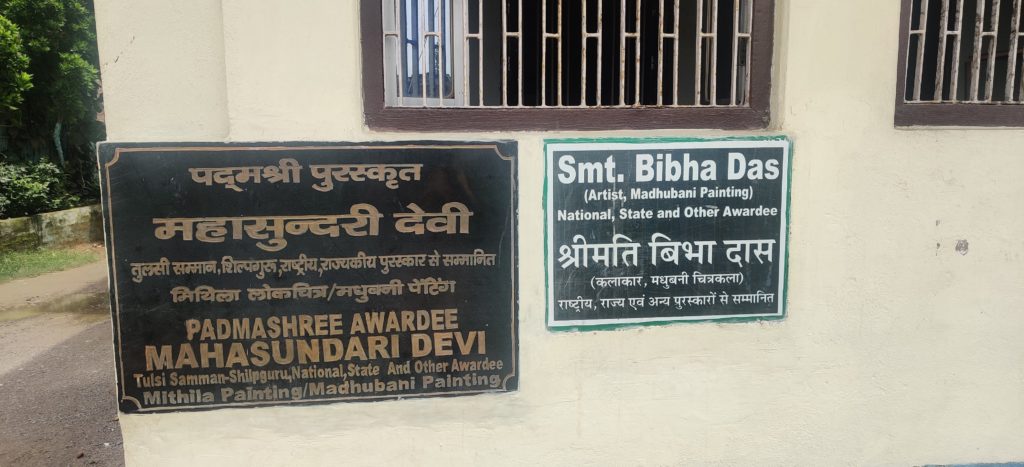 Dulari Devi herself lives in a small house. She tells me that her family belongs to the fishermen community. She used to accompany her mother to the farms and for fishing. Then one day she went to help in a local woman's household with the household chores. This lady was an artist. When Dulari Devi saw her in action, she was immersed in the world of art. She felt like she could forget the humdrum of her life, the challenges of the meagre income her parents earned, and found a canvas on which to depict all that she observed as a child. In the earlier days, they couldn't afford paper or paint, so she would use sticks to draw on the wet clay floor of her house. From then, whenever she found time, she kept practicing her art. She drew whatever of the village life she observed, such as farmers, children, fishes etc.
I asked her, why do I see so many fishes or fish motif used in Madhubani paintings. She told me that's because fish is considered sacred in their culture and also a good omen. I couldn't but help see the connection to the fact that a lot of current day Madhubani artists also belong to the fishermen community.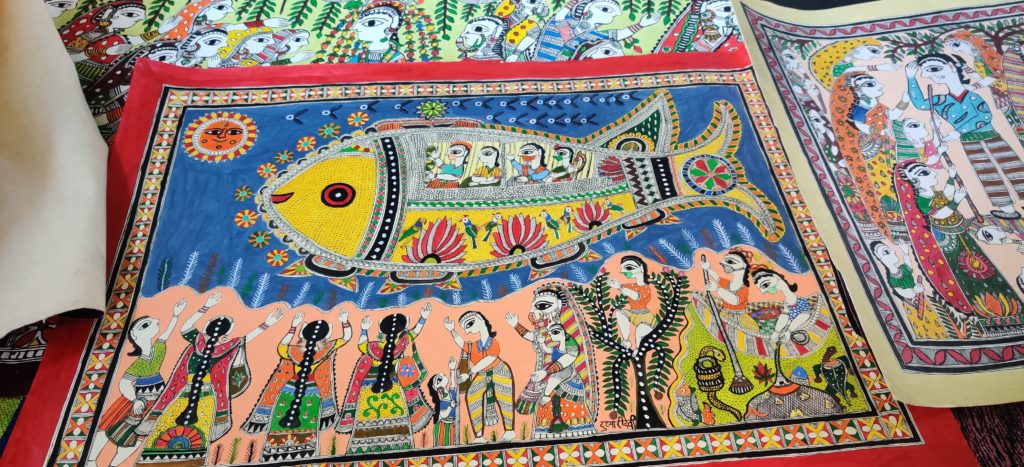 I asked her how much she earns from these paintings. Earlier, we sold them for too low prices – may be 30 Rs. for a painting, she said. But now people seem to value us and our art. The artists sell their paintings to government center, which also then act as a sales center for these paintings, or sometimes directly to the consumers as well. Each painting can take different time to complete, but Dulari Devi says that she was always very fast as compared to others. She could complete some big and complex paintings in 4-5 days of intense work. When someone in the village gets a big purchase order, other artists come together to help complete it.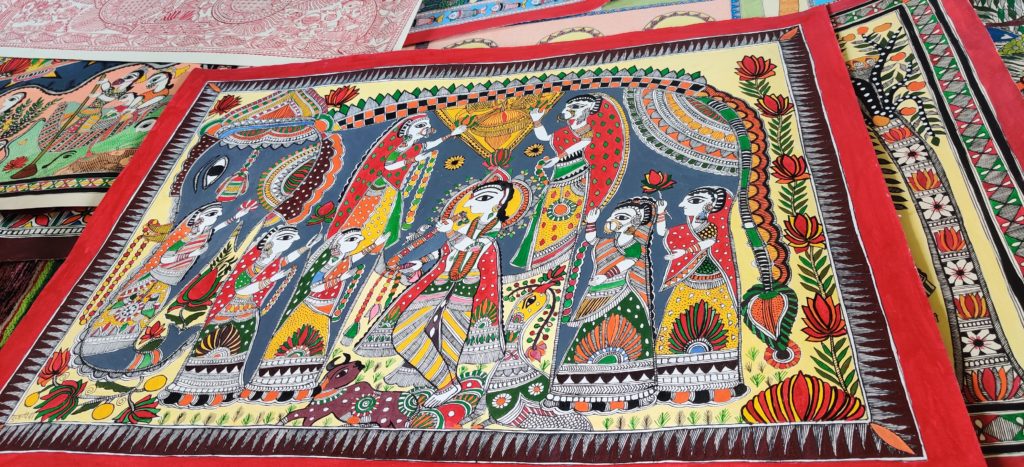 Is it a women only art, mostly – I asked her. Earlier it was so, she says, but now, even the men of the village make these paintings. Her own nephew is very good at it, she says proudly. I was a little surprised that the Madhubani paintings are not just drawn on papers but also on the walls of the house. She tells me that originally people started painting on the walls itself, it was much later that women used paper to paint. Infact, in 1970s, there was a severe drought in the area, and so the government started a programme, encouraging local women to paint on paper and canvas and sell their work. That's how Mithila paintings took a commercial form.
She shows me a book published by Tara Publication 'Following My Paint Brush' which is a depiction of Dulari Devi's own story through Madhubani paintings for children, acting as an inspiration for young children to understand the journey of an artist.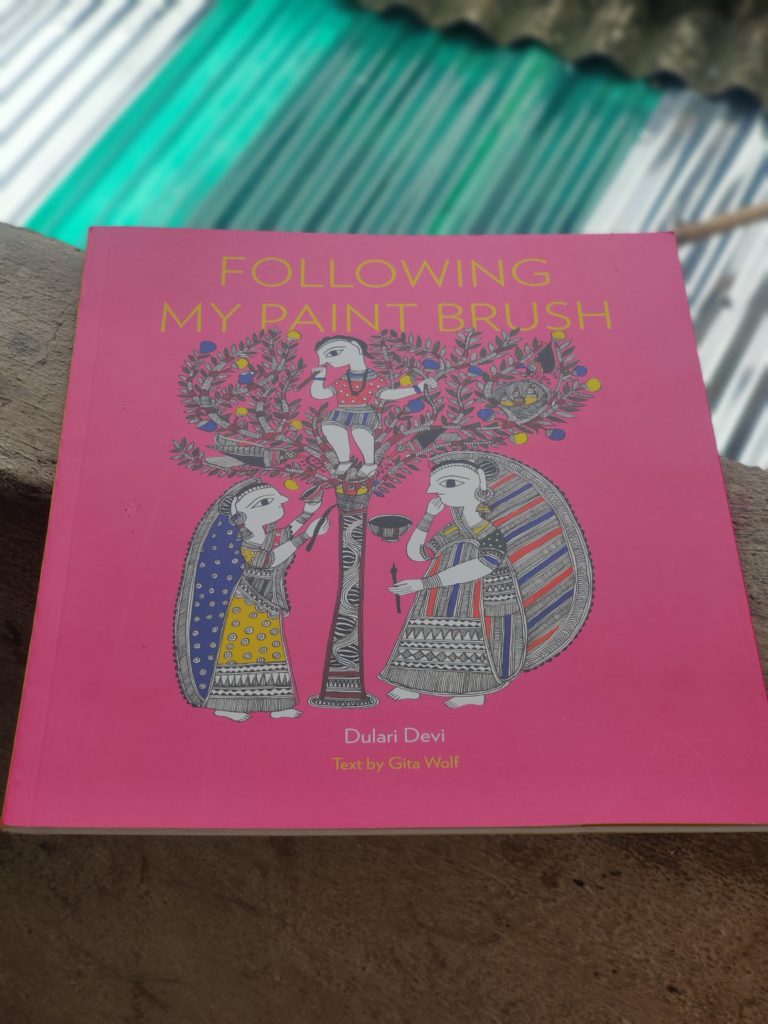 I found the book extremely creative and apt for young children. Dulari Devi also shared that a French person had done extensive research on the Mithila painting artists and published a book in French, in which she too finds a mention.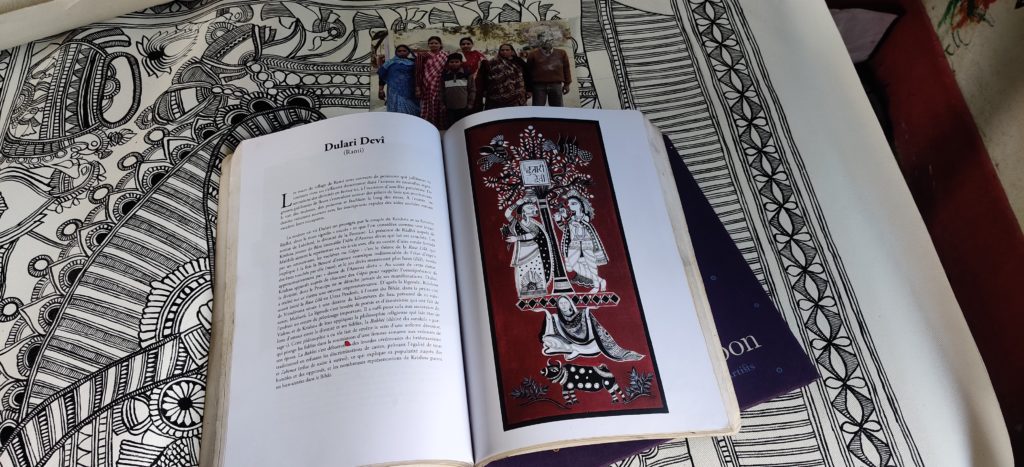 What is your favourite painting – I asked Dulari Devi. She showed me a painting where rural women are shown to go for polio vaccination of their children. In the queue, she tells me, are both rich and poor women. The poor woman is crying, while holding her child in her arms, thinking that she doesn't have the money. That's when another woman informs her that polio is for everyone, without any discrimination between the rich and the poor, and so her child too would be given the vaccine. Dulari Devi tells me that this painting was sold in America for 50,000 Rs. This painting reveals the discrimination in medical services in the rural areas.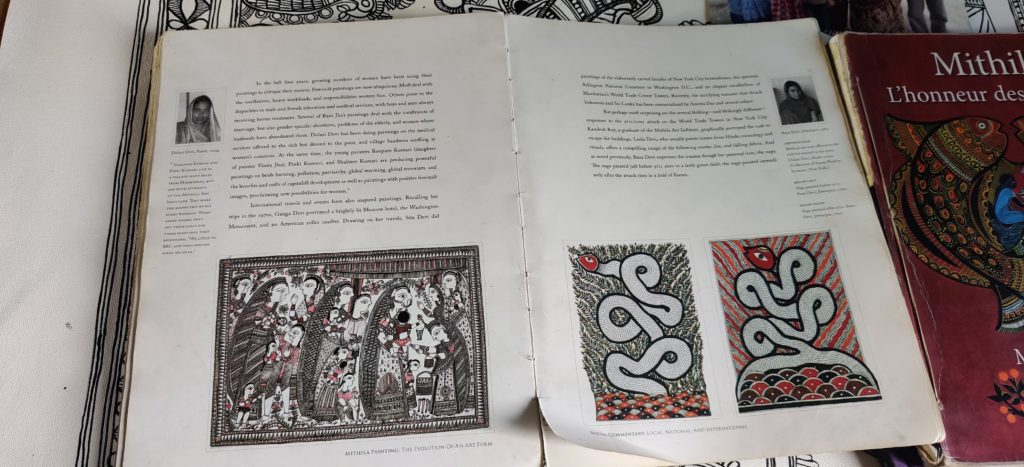 She shows me another of her paintings, depicting women in the rural areas going to vote on election day. In yet another painting, a group of women get together to talk to a man who's has been harassing them.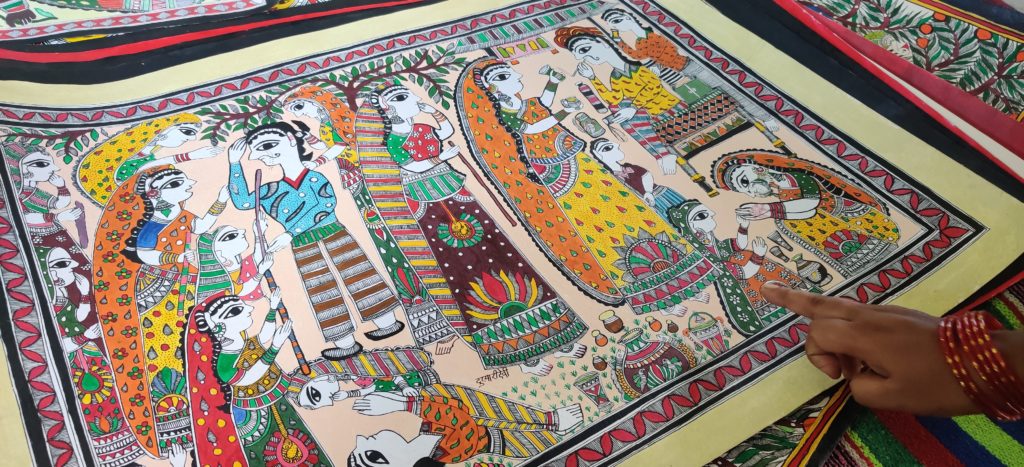 What I love about her paintings, is the story they tell, especially when seen or heard from Dulari Devi's perspective. She is an artist par excellence, who is not just painting pretty, but reflecting the struggles of women in rural villages even today. This is what makes the study of this evolving art form interesting from a feminist perspective.
Mithila paintings are not just an art form, but a creative expression of the men and women, who express their happiness – depicted through painting joyous occasions, weddings, music etc.; their everyday lives – depicted through farming and fishing scenes; their ecosystem – depicted through the animals, turtles, birds, and also their civil and political life, along with religious beliefs. These paintings, I realized are a world of their own, and a powerful medium of communication from one generation to another, and also from people living in one part of India to the world, about the stories of their life. While the artist in Dulari Devi definitely has all my respect, what touched me even more is how she insisted that we have lunch before leaving. On informing me, that we have an important meeting to make to, she felt obliged to offer us something and not let us leave empty handed. She gifted me a beautiful dupatta with Madhubani painting on it and with tears in her eyes, bade us farewell. It is her humane side, which will remain me with me a for a long time. With all the international acclaim coming her way, and the recognition being received by Madhubani art form, the sad truth is that most of the artists in the village live a very economically modest life, with little free time to be able to give their best shot to their art form. Many do it as a source of livelihood, but few have the luxury to take their art form to the next level.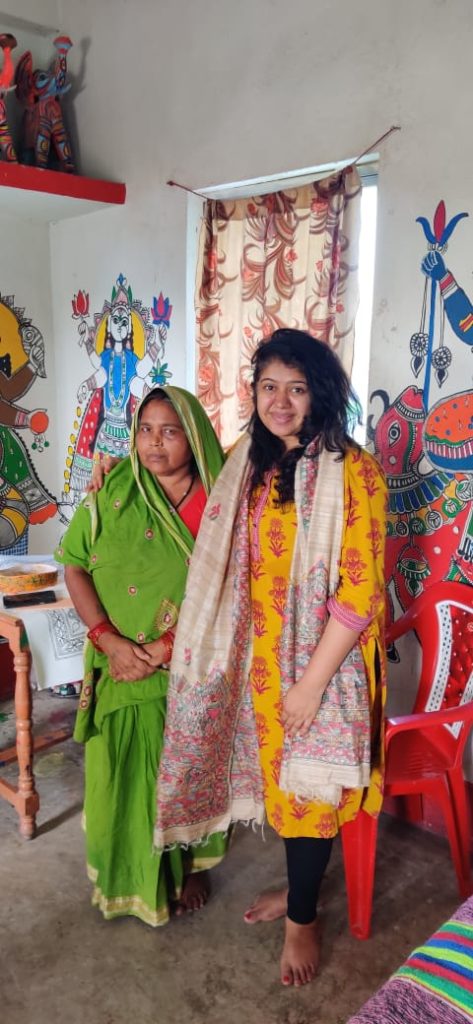 Can we put our money where our mouth is and pay attention that the policy of our country recognizes the true value of artists across the country? Can we have a minimum support programme for indigenous artists across the country? Can we have distribution channels that these artists don't have to sell their art for a much lesser price but get what they truly deserve? These are the questions, I left with and hugged a warm hug to Dulari Devi, with a promise to meet her again.
If any of you reading this, wish to support her in anyway, I will share the details and you can directly reach out to her.
Write to us at thewombteam@gmail.com