Ashmi Sheth for Young Adult Space (YAS!), The Womb
The name Viswanathan Anand is almost synonymous to Indian chess Grand Master, but this 14-year-old girl from Chennai seems set to change things. B. Savitha Shri won the title of Woman International Master (WIM) after defeating her opponents at the Belgrade Spring Festival Chess tournament in Serbia this year. She had won her first WIM norm in 2019 at the Grenke Open in Germany and the second in the Mix-200 event at final week in Serbia. According to ChessBase India, Savitha has been the National champion thrice in her age category, under-12 World Champion. Savitha became the Woman FIDE Master in 2020 at the age of 12, with a rating of over 2100. Savitha was also the best performing female at the Lorca Open in 2019. As of January 2020, Savitha had an Elo rating of 2261, making her one of the youngest female players in Indian chess to cross 2250. She was the highest-rated girl born in 2007 or later in the April 2021 FIDE ratings.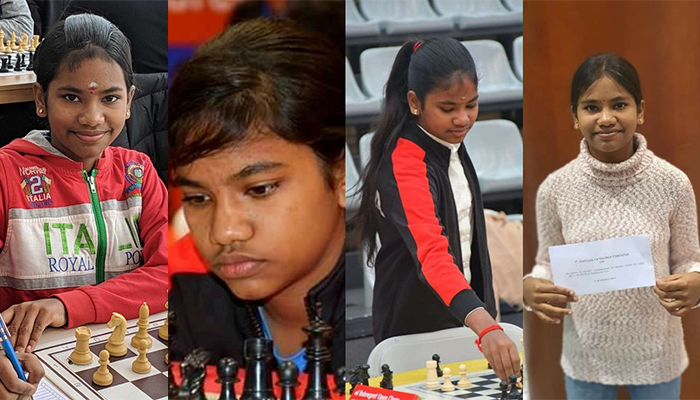 Savitha's father, Baskar, was an electrician in Singapore, but left his job to accompany his daughter in different events and "ensured that she evolves into a world-class chess player." Savitha has been playing the game of chess since she was five and began playing in tournaments when she turned eight. Her interest in the game developed by watching her brother play chess: "I would sit with him and watch him play, fascinated. My father discovered my interest in chess and he encouraged me to play in tournaments. As I kept improving my game, I knew that I wanted to pursue chess," Savitha said in an interview. As her school classes have shifted online because of the pandemic, it has been easier for her to focus more on her game.
German chess player and co-founder cum editor-in-chief emeritus, ChessBase India, Frederic Friedel, thinks that Savitha Shri is an amazing talent and will become one of the best woman players in the years to come. "She has the ability to concentrate and really really work hard on a chess position," he said in one of the videos for ChessBase India.
While Savitha is confident, resourceful and effortless on the chessboard, one thing she has always struggled with is finances. Savitha's chess career has been supported by sponsorship from Microsense Networks and a crowd funding amounting to £5036 raised by Deepan Priya from London. GM R. B. Ramesh, who has been training Savitha for about four years, said to The Hindu, "She [Savitha] is a natural," and added, "Savitha is in need of financial support." We urge philanthropists and chess enthusiasts to extend their financial support to help India's chess star rise higher.
To read more about Savitha's successes and to get a peek of her games with detailed annotations, visit: https://chessbase.in/news/Savitha-s-sizzling-exploits-in-Spain