Ashmi Sheth
At times we come across stories that fill us with feelings of #pride, in all its senses. The story of Dr. Narthaki Nataraj, who was disowned by her family at the age of 11 owing to her sexuality, reminds us of a rainbow that finds its way through the dark clouds. Being the first transgender dancer-artiste to have received the prestigious Padma Shri award in 2019, Dr. Narthaki Nataraj is to now become a member of the State Development Policy Council (SDPC) on the Tamil Nadu Government. As a member of the TN SDPC, she aims to focus on healthcare facilities and employment opportunities for trans women. She views offering job opportunities as not only making them financially stable and giving them dignity, but also as creating a more inclusive society. 
At the age of 12, Narthaki Nataraj along wither companion, Shakti Bhaskar, left home to pursue her passion for dance. She has dedicated 30 years of her life in service of Bharatnatyam, and specializes in the Tanjore style Nayaki Bhava tradition. Nataraj has performed at leading festivals across various countries in the world; USA, UK, Canada, Japan, Singapore Sri Lanka, and Switzerland to name a few. Currently, Narthaki Nataraj runs her institute, "Velliyambalam School of Dance," where she trains many Indian and foreign students in the traditional art form as handed down to her by her guru. The Velliyambalam Trust also has branches in the US, UK, Norway and Canada, that have both local as well as Indian diaspora students. Even as she learnt dance, Nataraj completed her higher secondary from the money she earned from dance performances. In 2016, Nataraj received an honorary doctorate (Doctor of Letters) from Periyar Maniammai University. Having been denied admission by a law college because of her sexuality at one time, Nataraj now continues to hold lecture programs across Ivy League universities such as Yale University.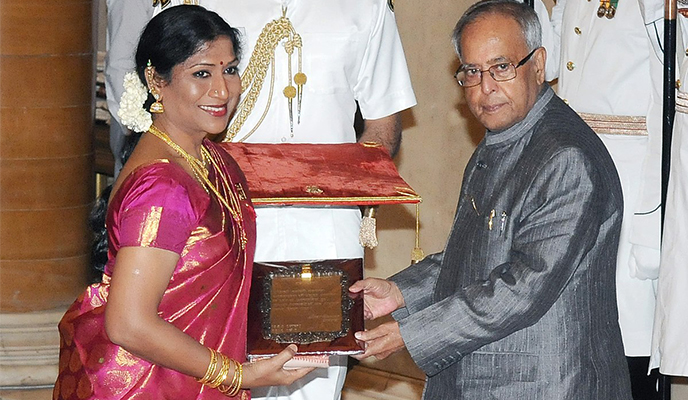 Some of her other achievements include receiving the SNA Puraskar from the President of India in 2011, the Kalaimamani Award from Tamil Nadu Government in 2007, Nruthya Choodamani Award from Shri Krishna Gana Sabha and having her life story featured in 11th standard Tamil textbook of Tamil Nadu Government in 2018 as an attempt to sensitize young minds about the transgender community.
In 2002, Nataraj forced the Union Home Ministry to change the alphabet 'U' (eunuch) to 'F' for female in gender column of passports issued to transgenders. She also fought to replace the derogatory Tamil word used to refer to transgenders, 'Aravani' with 'Thiru Nangai,' a term that she coined which means "supreme woman."
Dr. Narthaki Nataraj's inclusion in the TN Government deserves much appreciation and can be a revolutionary step toward a more inclusive and gender-neutral political environment for people with diverse sexualities and identities.