By Srinivas Rayappa
Chetna Gala Sinha is an Indian social activist working to empower women in drought-prone areas of rural India by teaching entrepreneurial skills, access to land and means of production. She has been at the forefront of land rights movement, farmer's movement, and women's movement. Chetna is the founder and chairperson of the 'Mann Deshi Bank', a microfinance bank, which lends money to women in rural parts of India. She is also the Founder and President of 'Mann Deshi Foundation'. Mann Deshi Mahila Sahkari Bank has the recognition of being the first bank in the country for and by rural women to get a cooperative license from Reserve Bank of India.
Born and brought up in Mumbai, Chetna got her Master's Degree in Commerce and Economics at Mumbai University in 1982. Growing up during the heyday of political activism, she was drawn to Jayprakash Narayan's brand of socialist politics. During one such movement, she was captivated by the charm of a handsome young farmer leader, who was not well educated but could draw the crowds. Chetna decided to marry him and move into his village to live with him despite the village not having running water and toilets. Her family and friends were horrified, but Chetna saw her future in the village with the man she had loved and this would be her home. This decision would change the course of her life and paved the way for her foray into women's revolution in rural India.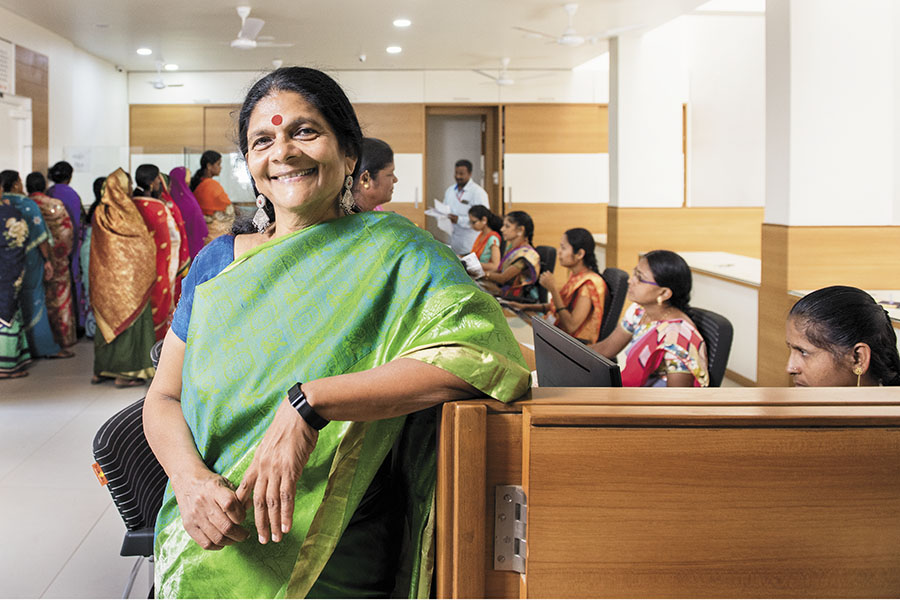 Once a blacksmith named Kantha Bai approached Chetna, expressing her desire to open a bank account. Despite being able to save a meagre Rs. 10 per day, Kantha Bai was insistent on wanting to open a Bank account so that she could keep her money safe, which would eventually enable her to buy a plastic sheet for her house before the monsoon arrived and thus protect her family from the rain. Chetna accompanied Kantha Bai to a nearby bank only to be informed by the manager that he would not be able to open a bank account for Kantha Bai as the sum she had was paltry and was not worthy of a bank account. Chetna realised that despite Kantha Bai not seeking either a loan or a subsidy or a grant, she was being declined her right to open a bank account. This triggered Chetna to think of starting a bank for rural women which would give them an avenue to save their hard earned money. She then approached the Reserve Bank of India seeking a banking license to start a Bank for Rural women, only to be declined on the grounds that some of the promoting members of the proposed bank were non-literate. Chetna was disheartened and wept endlessly but the women folk in the village infused confidence in her by accepting the challenge of RBI and decided to read and write and reapply for a banking license.
Thus began the literacy program in the village, wherein these determined women after a day's hardwork would voluntarily meet to collaboratively learn to read and write. Five months later, having gained basic literacy, they reapproached RBI seeking a banking license. This time around Chetna was not alone as she was accompanied by 15 other women from the village. These women, brimming with confidence challenged the manager to put them into a contest with his team in who could calculate faster without a calculator. Looking at the grit and determination of these women RBI finally granted them a banking license – and thus was born the Mann Deshi Bank.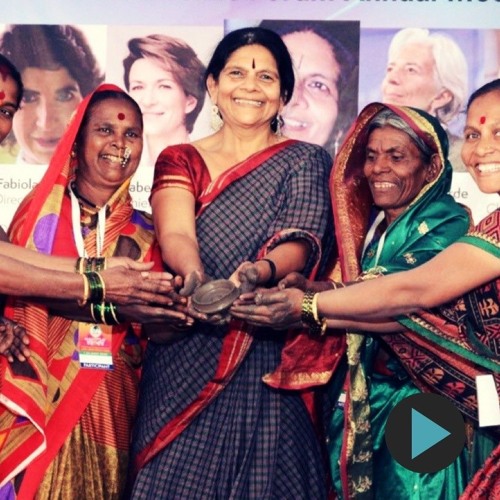 Mann Deshi Bank, a microfinance bank which lends money to women in rural India, was setup in 1997 with a working capital of ₹708,000 raised from among its 1,335 members. It has in just two decades reached over 310,000 women (84,000 among them borrowers), providing them with the financial backing and emotional impetus to become successful entrepreneurs. Today, the Mann Deshi Bank has loaned over $50 million and regularly creates new financial products to support the needs of female micro-entrepreneurs. Kantha Bai, who triggered this revolution today lives in her own house with her family, all thanks to the bank which she helped bring to life.
Despite the bank being setup, it was not bereft of challenges. Working women could not go to the bank because they would lose a working day and the wages of that day. Since women could not come to the bank, Chetna decided that the bank should go to the women and thus they began doorstep banking. Also, the women were not comfortable using PIN numbers for accessing Digital Banking facilities as they found it hard to remember. This problem was also resolved with the usage of biometric technology thus empowering the women to use their thumb instead of a PIN. Chetna recollects the statement of the village folks – "Anybody can steal my PIN, but not my Thumb". Chetna thus concluded, "Never provide poor solutions to poor people – they are smarter than you can imagine".
As the Founder and President of the Mann Deshi Foundation, Chetna started financial literacy classes, where women are taught the ropes of savings, investing, insurances and loans through modules that comprise games like Monopoly. According to the Foundation, there has been an increase of ₹13,200 in the average annual income of rural women after they've taken business development classes at the school.
Mann Deshi also runs Business Schools, a Community Radio and a Chambers of Commerce for rural women micro entrepreneurs. To date, it has supported nearly half a million women. Just like the bank saw the day of light because of Kantha bai, the Community Radio was started because of a folk singer by name Kera Bai, who was extremely passionate to sing. Kera Bai could not read or write but her means of communication was singing. Today, Kera Bai is a successful Radio Jockey appearing on several radio shows.
Chetna Sinha and six other women chaired the 48th Annual Meeting of the World Economic Forum in Davos-Klosters, Switzerland in January 2018. Chetna Sinha is Yale Fellow, Schwab Fellow and Ashoka Fellow. Chetna was awarded the "Entrepreneurship Development Award" on 29 July 2010 by Entrepreneurs' International, Pune. She received the first Godfrey Phillips Bravery Amodini Award on 11 September 2009 by Godfrey Phillips and "Rani Laxmiibai Puraskar" on 7 March 2009 from Cyclo Transmissions Ltd., Satara. This award is given to the women who have done outstanding work in various fields. She is also the recipient of Jankidevi Bajaj Puraskar Award for Rural Entrepreneurship 2005. For work completed with drought-affected women, she was awarded Shri Nanaji Deshamukh and the Rajiv Sheth Sabale Foundation Award 1999 by Governor of Maharashtra. She received the Forbes India Leadership Award 2017: Entrepreneur With Social Impact. Last but not the least, Chetna Gala Sinha has been awarded the Nari Shakti Puraskar, India's highest civilian award for women who work in the area of women's empowerment.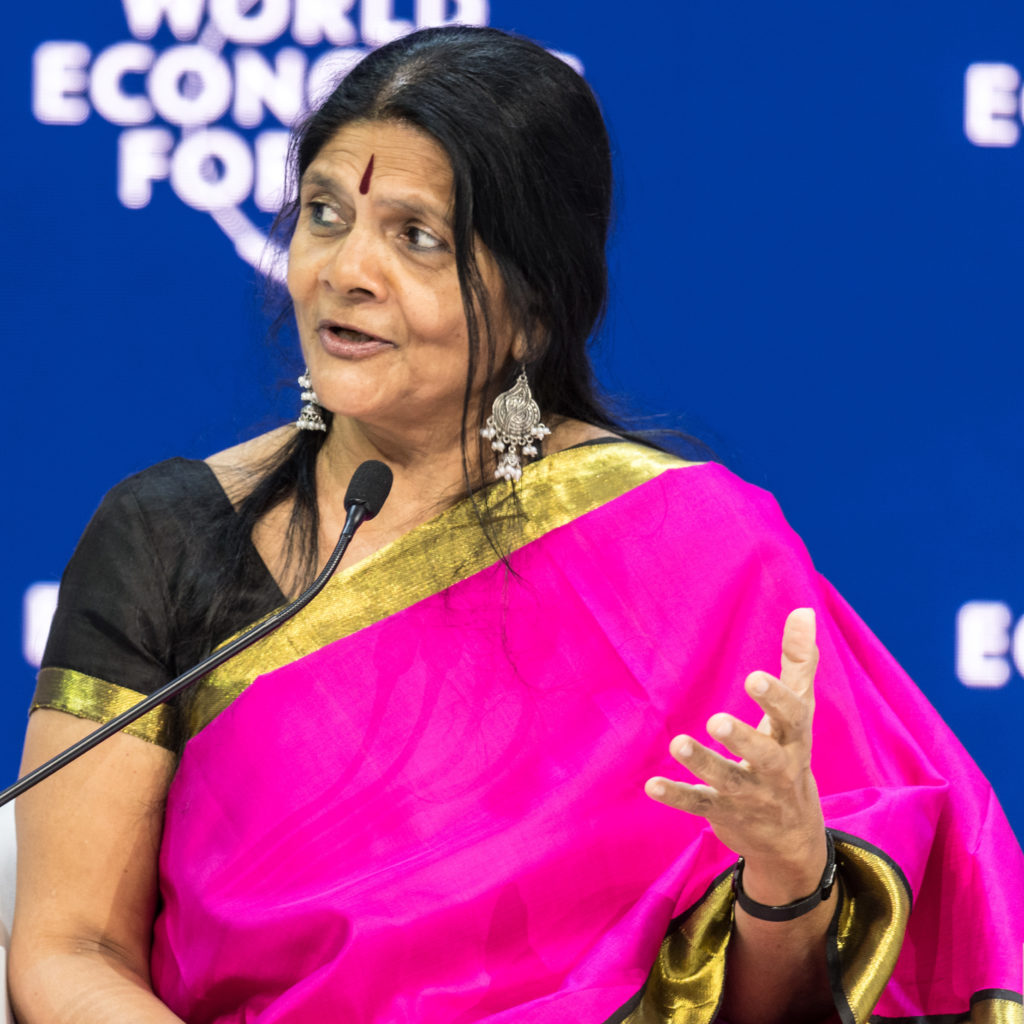 Chetna Sinha is a true inspiration to society as she has inspired, taught, and guided women who once had no education, no travel, and no exposure to the outside world, but still managed to do extraordinary things in their life.